You love food! And not just eating it, you love preparing it, too.
You've always enjoyed collecting and creating recipes and experimenting with all kinds of foods, ingredients, and cooking methods. 
And you've been thinking for a long time about taking all your knowledge and experience from the kitchen to an online audience. You love food blogs and have always dreamed of having one of your own so you could share your love of food and earn passive income in 2023 as well. 
Well then, this is what this post is about. I'm encouraging you to take action because there's a recession coming and starting your food blog before year-end is going to be a smart thing to do.
Why Start Your Food Blog Before Year-End
You should start your food blog before year-end because the most successful people in the world act early and decisively when they see a great opportunity and market conditions are good. 
Are market conditions good for starting a food blog in 2023?
Starting a food blog in 2023 (read: getting started right now) couldn't be better. This is because a food blog is one of the most lucrative methods to earn a passive income in 2023 while you pursue your passion for cooking and share your love for creating and enjoying food with a global audience.
How much money do food blogs earn for their owners?
The top food bloggers in the world earn millions of dollars a year through their websites and blogs. Now, they're in rarefied air, for sure. 
But even a good enough food blog can earn its creator enough passive income to allow her or him to do it full-time. 
But, I wouldn't focus on the potential to earn passive income when you're starting your food blog and planning it out. 


The most important thing to focus on when starting a food blog.
The most important thing to focus on when starting a food blog is your content.
Nothing else. 
Creating great content should be 90 percent of the work you do for the first 2-3 months and your goal should be to create 50-60 posts for your food blog in the first 2 months. That averages out to about 1 post per day for 60 days. 
Content really is king, and your content has to be good, meaning that it educates and entertains your audience.
People go to food blogs because they love finding and trying new recipes, they often entertain friends and family with their cooking, and they enjoy a great meal themselves. 
That's why the most important thing to focus on when starting a food blog is creating good content that attracts, educates, and entertains your audience.
I've got a great blog post that will help you with one aspect of creating the best content, and you can read it here: Write Conversationally To Engage Your Audience.


How to create content for a food blog?
We're going to go to the experts for the answer to this question. 
Kate, the owner of the food blog called Cookie + kate, has a great post on Top 20- Tips for Food Bloggers. Check her food blog out and read the post. 
In her post, the 13th tip is: Don't sell out.
Kate wrote: "I'm not saying that you shouldn't try to make money off your blog, but don't align yourself with a brand or project that isn't a good fit. You are the company you keep. Focus on producing your best content and building your audience and the opportunities will come."
As I wrote above, your focus - 90 percent of your time - should be on creating good content for your food blog. This includes having a clean blog design that is easy to read and contains great recipes and photos that make your reader's mouths water. 
And Zhen, founder of greedygirlgourmet references some wise advice on how to create content for a food blog here: Highest Paid Food Bloggers, where she refers to the owner of Recipe Tin Eats food blog, Nagi, who suggests you stop spending money on website design because Nagi gets millions of views with a $70 dollar blogging theme and emphasizes your food blog just needs to be "clean, functional, and mobile friendly."
Both of these blogs and their owners are great to study and learn from if you're going to be starting your food blog before year-end. 
You'll learn a lot about how to earn passive income in 2023 by food bloggers who've already achieved success.
Some of the best food blogs for 2022 that you can learn from to help with starting your food blog before year-end and starting earning passive income in 2023 are:


7 Of The Best Food Blogs for 2023
Take some time to explore some of these food blogs and take note of their design, layout, photos, and check out their blog posts. It's a great way to educate yourself and get ideas for how you'd like your food blog to look.
After all, these are some of the best food blogs for 2023 and you can't go wrong learning from their creators. 
Of course, creating great content for your food blog so that you can earn passive income brings up the question of: 


What Should I Write About In A Food Blog?
You should write about food, of course. Following are some of the main categories of content that you might include in your food blog:
Recipes
Reviews
Sponsored content
Personal cooking/food stories
SEO content
Food trends
A food series
Recipes
These, naturally, are going to be the foundation of your food blog. You're going to need a lot of step-by-step instructions for your favourite recipes. 
Where do food blogs get their recipes from? 
Food bloggers get their recipes from friends, family members, colleagues, other food bloggers, restaurants, out of their own heads, and from their food blog readers. Don't forget to ask your audience to send you their favourite recipes so you can include them - with permission, of course - on your blog.
You might also be able to ask permission from other food bloggers to use their recipes on your food blog as long as you credit them. 
Reviews
Reviews of kitchen tools, cookware and bakeware, recipe ingredients, and recipes that you've created or made are important forms of content to create for your food blog.
Many food bloggers also receive free products from companies that want them to try their stuff out and create reviews for them.
Just remember that your reviews should be honest and not simply positive because you were given something for free. See more about this next.
Sponsored content
Many food bloggers feature sponsored content, meaning advertising for companies that want to leverage their traffic and audience to sell more of their products or feature their brand. 
Often, this content appears as if it is a review, but it's going to have a positive bent and many food bloggers earn a significant amount of their revenue from companies that pay them a monthly fee to feature their products. 
A lot of food bloggers also earn passive income by joining the affiliate programs that many brands have. This way they earn commissions whenever a reader of their food blog purchases a product or service through the affiliate links on their food blogs.
This is a great way to monetize your food blog, but remember that you must make it clear to your audience if you are receiving payment for a review or if you are promoting products and services as an affiliate on your food blog.  
Sponsored content reads more or less like reviews, but it tends to be more positive. 
Personal stories
Everyone loves a good story. And people who read food blogs are no different. The thing that attracts food blog readers are the individuals who create the food blogs. So be generous with sharing your own experiences. Things that make great stories include:
your cooking experience/journey (how did you develop your love for food).
anecdotes - especially humorous ones, like: "how I blew up my kitchen."
cultural stories related to food as well as places you've traveled to in your search for great food.
restaurants where you've found incredible dishes and how you may have tried to recreate those dishes in your own kitchen.
stories from your readers where they share their cooking and food experiences.
SEO content
Content that is good for search engine optimization should be a part of your food blog content creation strategy. But beware, because your content still needs to be high quality.
Don't simply create garbage content because you want it to rank in Google.
Every piece of content your create for your food blog must have a specific objective related to helping you earn passive income in 2023. 
How do you determine what type of content will be good for your SEO? It's by doing keyword research using Google. 
As an example, my keyword research for this lengthy post revealed that two keyword phrases have low competition, and those phrases are in the title of this post.
They are "earn passive income" and "food blog." I've used those keyword phrases and written this post to help you earn passive income in 2023 by staring your food blog before year-end.
Below you see the results for some keywords I provided in Google Keyword Planner. 
"Earn passive income" is a medium competition phrase and "food blog" is low competition. Additionally, I've used many other keyword phrases and questions throughout this post to help with my SEO. 
You should do the same when you're writing your food blog posts.  
Food trends
Avocado toast, anyone?
Or kale?
How about the oat bran trend from the 80s and 90s?
Regardless of the food niche your food blog is focused on, if you're going to create a top-performing food blog you've got to be up-to-date with the latest trends in food, including recipes, food fads, and whatever is newsy in the food industry.
One example would be keeping up with trends like "gluten-free" or "lactose-free" recipes. 
Use Google to see what's trending. Go to Google Trends > Food > and you'll come up with trending topics, like the ones you can see below: 
Food festival
Shortage
Food prices
Street food
Food poisoning
And on the right-hand side you'll see "Related queries that include:
pure food and wine
cne food
8 major food allergens
food by fanta
travel
All of those are trending on Google under the general topic of food, and with some planning and ingenuity you can create blog posts on most of these topics that your audience will find interesting, entertaining, and helpful.
Another search on Google Trends using "gluten-free" came up with the following:
So, you can see that Google Trends is a gold mine of ideas for creating content that's trending because people are searching for information on these topics. 
Food series
Include a food series as a regular part of the content for your food blog. A food series can include the following:
one week's worth of recipes to make your reader's lives easier.

a weekend recipes series, especially good for long weekends or other special weekends.

a holiday recipes series.

seasonal series, e.g. great autumn recipes for cool mornings and nights.  
Summing Up
If you're serious about starting your food blog before year-end, then I encourage you to get started. Getting a jump on the new year will help you earn passive income in 2023. 
Remember: 
food blogs are popular and lucrative.
focus on creating great content for the first 2 to 3 months.
research other top food blogs online and learn from their design, photography, posts, articles, and videos.
reach out to the owners of some of the best food blogs for 2023 that I've featured in this post. I'm sure they'll be pleased to give you some advice to help you with starting your food blog now.
Most importantly, have fun working on your food blog. After all, you love cooking, food, and eating, and it's only worth starting your food blog if you're going to have fun doing it.
Now, it's time to take action. All the best to you. 
---
If you're looking for the best way to build your blog, I only recommend one company and that's Thrive Themes. I'm using their KWIK theme for the Content Igniters blog, but besides this blogging theme Thrive Themes has every single tool you could ever need to start your food blog before year end and earn passive income in 2023. 
You can check out Thrive Themes and all of the blogging tools they provide by clicking on the "Content Builder" image below.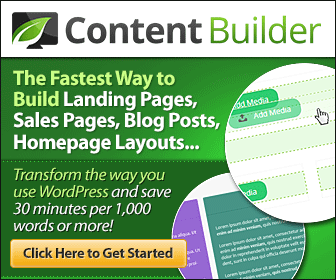 I am a Thrive Themes affiliate. I earn a commission at no extra cost to you when you purchase any of the Thrive Themes products through my site.